Our Certification Program provides the aspiring individuals an opportunity to enhance their Software Application Skills and Software Training Skills to stand distinguished in the global competition. This program aims to transform the software professionals and functional executives associated with education including the teachers to get tuned with the latest technology and the ultimate School Management Software. The training tools include practice, help video support, demonstration and study guides.
Why and How?
Software Certification could be your career enhancement for better success and stand up with more opportunities. But before that, note that it is a perfect knowledge enhancement. You are being able to stand ahead in your peer group. Why not? You could also become an Application Trainer soon.
If you are a school management then here is an opportunity for you to depute few of your interested staffs to get trained and become a professional PenPencilEraser Application Specialist. You can be satisfied that the school stuffs are managed with more professionalism. It increases the competence, builds a strong and dedicated team and it reached out to the overall achievement.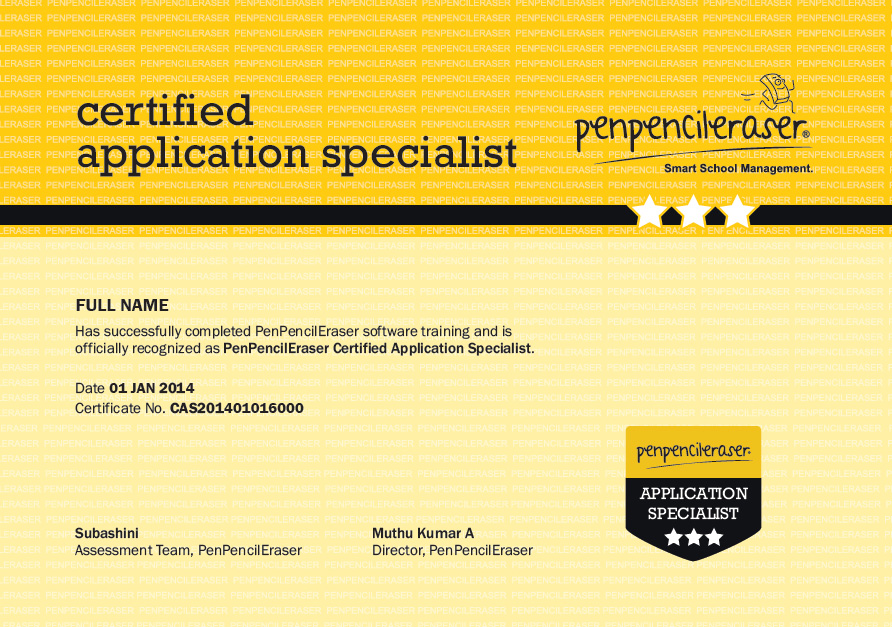 Liked It, Share this on your network:


Engaged as Chief Editor at PenPencilEraser, actively spying on web to add new and exciting discoveries to the Blog.

Latest posts by Subashini Srikumar (see all)