Enter & Win the Contest of the Season!
Dear Readers,
Are you a Passionate Teacher, Mentor, School Administrator, Education Consultant or in anyway related to schools or education?
We take immense pleasure in announcing "IDEAL WORDSMITH Global '2014″, a newsy contest for individuals engaged in the field of education across the globe. We take this as an opportunity to reveal the extraordinary writing talents amongst you and help you showcase your writing works as never before. All qualified articles penned under the author name will be definitely featured in PenPencilEraser's blogging community to let all valuable articles with priceless piece of information for the world to read.
Education has the power to transform the entire civilization, we give you a platform to share your ideas and experiences in the field of education. The information you submit here as an entry to the contest will not only be eligible for winning prize but also act as a tool to express your views to the world which in some way benefit the society.
Apart from the contest, Favorite authors of the contest shall be granted a featured Guest Authorship account in PenPencilEraser 's Blogging Community, the growing initiative to collaborate all Education professionals on a common platform.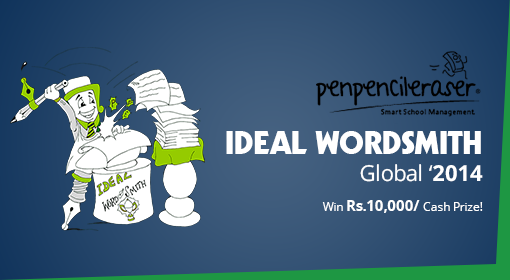 Don't wait to act, the contest is already open. Utilize, Win & Get Featured!
How to Participate & Win
Being an Education Management Professional, you might have faced interesting experiences worthwhile to share as an article sensible for readers. It might reflect some things you realized as you teach, the moment of glory or any instances that solidified your thinking of studies or some ideas that could provoke a complete change in the field of education. At any instance, include your thoughts on your article and support it well to get qualified in the contest. Your article must be at least 400 words in length.
How to Submit Your Entry
Logon to

www.penpencileraser.com/wordsmith

and send your

article as a Word

or Pdf document supplying your bio on or before November 20

th

, 2014.

Please take care of submitting only original contents and you are allowed to submit up to three articles at once.
You are half way there. Get on & Get it!
We are excited to read your posts and to get to know a little more about you!
- Best Wishes from the Team of PenPencilEraser!